What Is Blog Flipping?
Blog flipping is the business of building or buying a website, fixing it up, and selling it for profit.

LEARN MORE
Step 2:
Develop The Blog
Learn this guide: How do bloggers make money Drive traffic to the blog, and monetize it. Keep track of the traffic and sales, because you'll need it, when it comes time to sell.
Step 3:
Sell The Blog For Profit
When it has a good history of traffic and income, sell it, and start your next blog flipping project!
Read all about how Chelsea from HerPaperRoute sold her beauty blog for $50,000,
How This Blogger Flipped Her Blog For $4000 This blogger flipped her blog and earned over $4,000.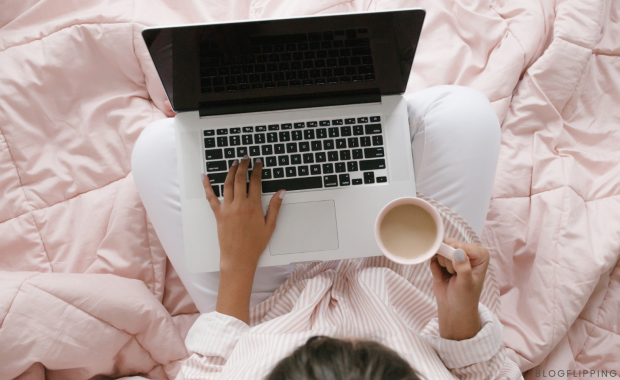 How To Make Money As A Blog Flipper Blog flipping is just like house flipping. Basically, you
Are you ready to learn the business of flipping blogs? Attend this private training for free, to see if you are a good fit for our program.
The Blog Flipping Society High-Touch Mastermind Program
✓ How To Launch Your Blog As A Business Worthy Of A High Ticket Price
✓ How To Professionally Brand Your Blog (On A Budget!)
✓ How To Market Your Blog & Generate Traffic On Auto-Pilot
✓ In-Depth Pinterest Marketing, Step-By-Step Over-The-Shoulder Demos Of How I Use Pinterest To Send Thousands Of Visitors Each Day To My Blog
✓ SEO Training, WordPress, Affiliate -Marketing & More
✓ How To Interpret Your Google Analytics So You Can Confidently Discuss It With Potential Buyers
✓ All The Tools, Tricks & Strategies I Know That WORK And Equal MONEY In Your Pocket
↓↓↓
✓ Profit & Loss Tracking Like A Pro (No Math Skills Required)
✓ How To Monetize Your Blog In Multiple Ways At Once
✓ Personal Development, Mindset, Confidence, And YOU As Your Best Self As An Entrepreneur
✓ How To Prep Your Blog For Sale
✓ Contracts, Records, Legal Things
✓ How To Create The Ultimate Flippa Listing That Can Not Be Ignored
✓ How To Generate Leads & Eyeballs On Your Listing For Free
✓ The Entire Selling Process, Pricing Hacks, Managing Bidders, Avoiding Scammers
✓ After The Sale, Escrow, Closing, Getting Paid
✓ Transferring Your Website, Tricky Tech Stuff Made Easy